Here are the age groups and times that are set for our Youth Leagues that are beginning this Saturday, February 22nd.
9AM: Ages 3-8 Please be at the bowling center no later than 8:30am so we can get everything organized in regards to teams, etc. Bumpers will be available for the kids that want/need to use the bumpers. So, we will plan teams accordingly.
12PM: Ages 9-18 Please be at the bowling center no later than 11:30am so we can get everything organized in regards to teams, etc. There will be no bumpers for this age group.
We are currently at approximately 80 kids total for both shifts. We will take signups through Saturday and walkins will be accepted as long as you are there by 8:30am or 11:30am, depending on the age group.
Our kitchen will be open. We will offer a breakfast menu in the morning as well as our full menu. Coffee will also be available.
Thank you!
Youth League Flyer 2020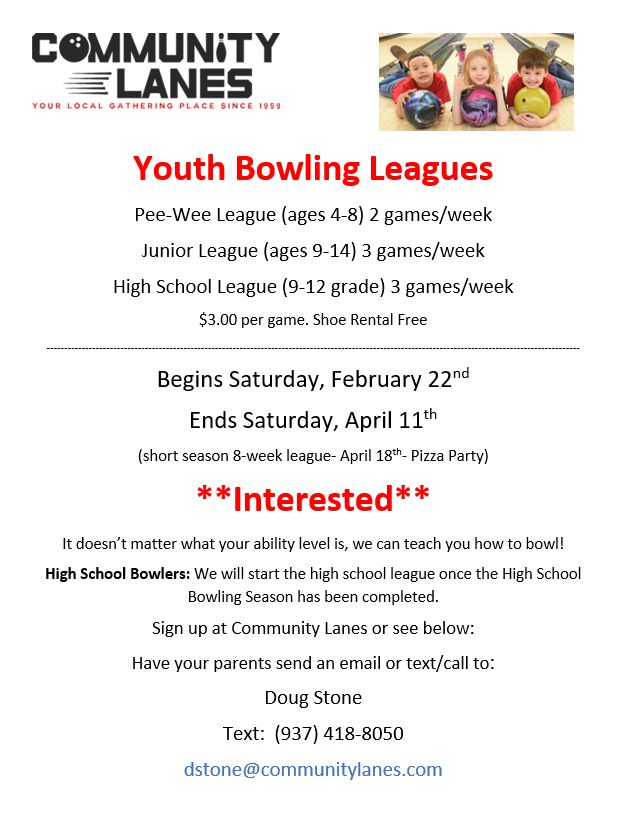 We are excited to announce the hiring of our Assistant Manager of Bowling Operations,
Doug Stone
. The sport of bowling has been a passion of his for many. many years with his major passion of developing youth bowlers. Here is a brief bowling bio:
1. USBC Bronze Level Coach
2. High School Bowling Coach for Troy High School for the past 6 years
3. Helped manage the Youth Scholarship Travel League. This league attracts top bowlers across West Central Ohio.
4. Managed the Troy Youth Bowling Program for the past 24 years.
5. He is also an accomplished bowler himself with a lifetime average of 215. In 2018, he had complications from diabetes and lost part of his right leg. He quickly learned how to bowl with his prosthetic leg and is now back to averaging over 195.
This has been a personal goal of mine and for the center to find someone with a passion for the Sport of Bowling as I have had most of my life. I am so excited to have Doug on our team and look forward to the future of Youth Bowling at Community Lanes.
Doug will also be focused on rebuilding our Mens, Womens, Family and Mixed Leagues. He will also be working on creating and bringing in more tournaments to Community Lanes.
Doug has officially started as of today, January 13th. We will be posting info here, our website, the center as well as emails about our Youth Program that will be starting in February.

Get In Touch
Location: 356 East Third St., Minster OH, 45865
Telephone: (419) 628-2717
Email: reservations@communitylanes.com
Bowling Center, Dining & Kitchen Hours
Mon: 4pm - 10pm
Tues: Closed (will open on September 24th)
Wed: 4pm - 11pm
Thurs: 4pm - 10pm
Fri: 4:00pm - Midnight or later
Sat: 12:00pm - Midnight or later
Sun: 12:00pm - 9pm
Private parties or outings can always be booked
at any time.